Lung Ming Li Co., Ltd.--PTFE stainless steel braided hoses; brake hose, hydraulic hose, steam hose, chemical hoses
---
Established in 2000, Lung Ming Li Co., Ltd. specializes in the production of high-grade polytetrafluoroethylene (PTFE) brake hoses and fittings. It has grown into a major supplier of high-quality, reasonably-priced products, which are sold on the international market under its own "Dragon" and "Dragonfly" brands as well as on an OEM basis.
The company offers PTFE hose assemblies for automotive, motorcycle, paintball-gun, and other applications, and capably tailor-makes hoses, fittings to meet customers' various demands as well.
The major products in the firm's catalog include PTFE stainless steel-braided brake hoses, PTFE SS hoses in various diameters, power-steering hoses (rubber), PTFE SS crank oil hoses, coil hoses, airbrake hoses, high-pressure and high-heat resistant air/oil/steam hoses, fittings, and adapters.
The seasoned PTFE hose maker says that it is able to supply high-caliber hoses with 304 stainless-steel braiding at reasonable prices, coupled with outstanding customization services. The company's PTFE SS brake hoses (with working temperature range of -60 to +260 Celsius) have been certified to meet major international standards including US DOT, FMVSS 106, SAE J1401, ADR 7/00, TSD 106, GB 16897, and JIS D 2601: 2006 (JSAE/JSA).
The company's products are shipped, either directly or indirectly, to the global performance-tuning market and assemblers of powered two-wheelers (PTWs), all terrain vehicles (ATVs), electric cars, and other types of vehicles.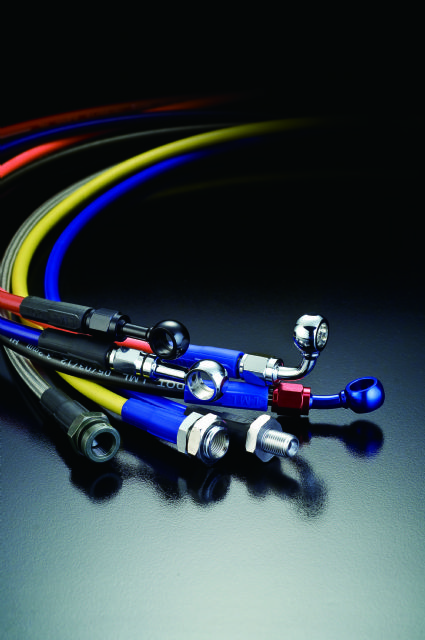 Samples of hoses supplied by Lung Ming Li.


Lung Ming Li Co., Ltd.
Bldg. C, No. 30, Alley 689, Lane 18, Sec. 1, Hsinan Rd., Wujih District, Taichung City, Taiwan 41462
Tel: (886-4) 2335-9090
Fax: (886-4) 2335-9191
Website: www.lml-hose.com.tw
E-mail: lomili.3@lml-hose.com.tw